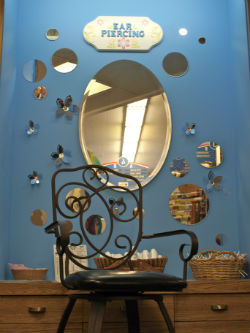 The Madison Pharmacy offers ear piercing services for anyone over the age of 1 year old. We have been providing this service to our customers since 1995. Everything required is included - earrings, cleaning solution, and care instructions!
Appointments
Appointments are not necessary but are recommended. Weekdays between the hours of 9:00 AM and 4:00 PM are typically the best times for walk in piercings. Saturday piercings are possible but it is suggested to call first to make sure there is adequate personnel available. Piercing services are not available on Sundays!
Please fill out and bring our disclaimer with you!
100% Safe!
Our piercing specialists always wear single use disposable gloves to be as hygenic as possible. Our tools are cleaned before and after each use and our earrings are always pre-packaged and pre-sterilized. Before piercing, your ears will be cleaned with a disinfectant. The piercing itself is done with a piercing gun which creates minimal discomfort for the customer.
Both ears are done simultaneously.
Studs must be left in ear for 6-8 weeks.
Must use our earrings but our studs are sized to allow easy insertion of your personal earrings.
Infants may be pierced if they are at least 1 year old.
All earrings are non-allergenic with no nickel strike.
All earrings are either pure gold over medical grade stainless steel or medical grade stainless steel.
Pricing
The cost for ear piercing is a flat fee of $30. This includes the earrings, cleaning solution, and care instructions.
If you have any questions please do not hesitate to call us!
You must be 18 years of age or have a parent or guardian present identification to have your ears pierced.